Welcome address of Sergey Katyrin, President of Russia's Chamber of Commerce and Industry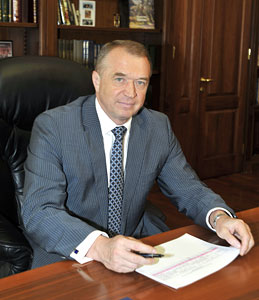 It is my pleasure to welcome the participants, guests and hosts of the 4th Central Russian Economic Forum on behalf of the Chamber of Commerce and Industry of the Russian Federation.
Today, the economic development of regions and the extent to which the government is involved in this process becomes of particular importance. We need to assess, with as much objectivity as possible, the current condition and prospects of territorial development, to pinpoint the key priorities of working towards a favorable environment for the economic and social stabilization in Russia's federal subjects.
These days, matters concerning the regulation and government support for investment projects, assistance to small and medium businesses, incentives for the development of import substitution industries and the role of the state in solving the population employment problem are on top of the agenda.
I am positive that the 4th Central Russian Economic Forum will enable public officials and experts to discuss topical aspects of the state regulation of regional economies issue and to develop strategic development trajectories for problem regions on a regional and nationwide scale.
May I wish the guests, participants and hosts of the Central Russian Economic Forum fruitful work and every success!
Sergey Nikolaevich Katyrin
President of the Chamber of Commerce and Industry of the Russian Federation
Organizers and Partners