Welcome address of Alexander Tkachev, Russia's Minister of Agriculture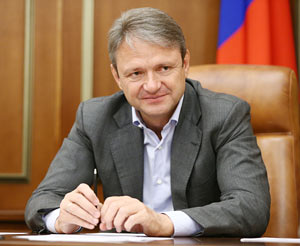 Dear participants, guests and hosts of the 4th Central Russian Economic Forum,
Russia's current challenges call for an in-depth analysis of the situation and careful decisions bringing together all interested parties: government authorities, business entities, the civil society and professional associations, experts and practice-minded specialists. In this connection, representative discussion venues providing opportunities to address the topical development issues of Russia and its regions grow in importance. One of such venues is the Central Russian Economic Forum enjoying well-deserved recognition with the business community.
Agriculture is traditionally one of the keynotes among the Forum events. This year highlights the strategic issues of national significance: food security and import substitution measures. The discussion is expected to touch upon quite a number of topical issues from state agriculture support mechanisms and the monitoring of consumer market prices to the vegetable growing and horticulture. I am certain that the meaningful dialog will enable the Forum participants to achieve appreciable results.
May I wish you efficient work and every success!
Alexander Nikolaevich Tkachev,
Minister of Agriculture of the Russian Federation
Organizers and Partners